Plum Island Surfcasters would like to teach you and your children how to fish!
Alex landed a 13 pound carp at the 2016 carp fishing trip!
The Junior's Program is dedicated to teaching the youth with classroom activities throughout the winter months and hands-on fishing trips in the summer. The emphasis is on learning the basics of rod building, fly tying, plug making, knot tying, bait rigs, and reading the water. Our goal is creating well rounded fishermen and women for the future of our sport. Jr. Program meetings are held on the last Saturday of the scheduled months. Membership in Plum Island Surfcasters is required to participate in this fun and informative program.
Detailed information on upcoming events is shared via email with all club members.  If you have a child who wants to learn to fish, consider joining the club to make the Junior's Program available to you.
All members (even our adult members who would like guidance) are encouraged to attend any of the Jr. Program meetings, events, and activities to learn a few new techniques, new fishing spots, or just have fun.  Only registered club members and their family can attend our Junior's Program Events.  We regret that we cannot accommodate others.
April 23, 2016:  8:00 am: Freshwater Fishing at Lake Gardner in Amesbury, MA:  This was a fun and great way to get the fishing season started. We fished for sunfish, yellow perch, pickerel and largemouth bass. Seven different species of fish were caught, including sunfish, crappie, yellow perch, white perch and largemouth bass.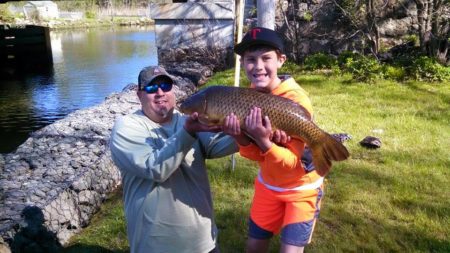 May 14, 2016:  Carp fishing.  Alex landed a 13 lb carp at our trip this year.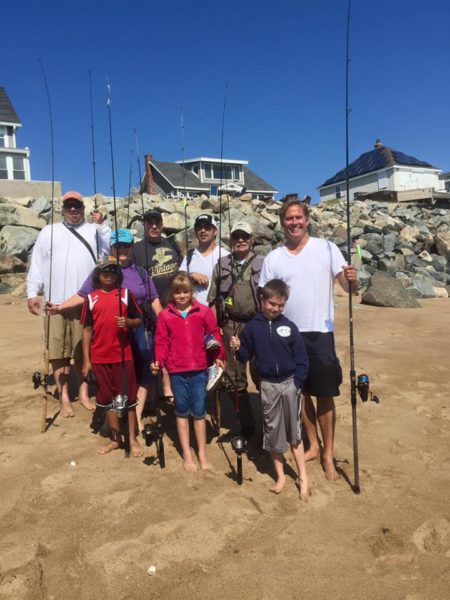 June 25, 2016:  We met at 8 am and spent the morning casting plugs along the Plum Island beachfront.  All juniors received a couple of new plugs to start their collection.
September 10, 2016:  We met at 6 pm and spent the evening fishing with clams and bloodworms along the Plum Island beachfront.  Numerous "schoolie" stripers were caught.
Junior fishing trips run from April through June, plus September and October. In July and August, Juniors are welcome to attend the club fishing trips which take place at regular meeting times–the third Tuesday evening of the month.   February generally features an ice fishing trip (weather permitting).
Contact us for information about the Juniors' Program.