As usual, we will have the annual Awards Banquet on the Saturday prior to Thanksgiving.  Prizes will be awarded for the year-long fishing tournament and the photo contest.  The main course will be Peter Novello's famous smoked turkey.  Please join us for our big social event of the year and bring your whole family.  Admission price is one side dish or dessert.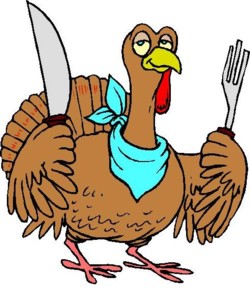 You can see what is on the menu and let us know what you are bringing by using the sign up form below.  Just click to link to sign up;  the list will open up and you can see what others are bringing.   If you don't like doing it that way, send a message from our Contacts page to the newsletter editor, or just surprise us that evening with your culinary creation.    If you need to make any changes to what you signed up for, again contact the newsletter editor as described above.
We look forward to seeing every there.
Current Volunteer Sign-up Sheets
No sheets currently available at this time.